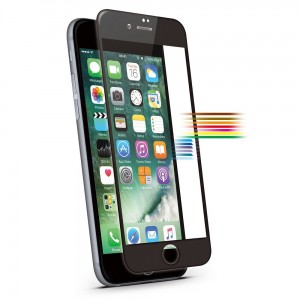 I've never really heard of JCPAL before they sent me some products to review, and I'm going to talk about two screen protectors for the iPhone 7. I believe that these are the right ones. You'll have to excuse me, as sometimes I get sent products, and then I just kind of match them to their website to see if this works.
Let's talk about the 3D Armor Anti Blue Light Glass Screen Protector. It is made of tempered glass, and it could be ultra-tough Gorilla Glass. It has a 3D curved edge, and it is easy to install. Also, there is a lot of scratch resistance and a fingerprint resistant coating.
I am told that it can protect your eyes against harmful blue light, and I believe this might have been a subject that I discussed with Reticare. I'm beginning to wonder how much of a terrible problem this is for our eyes, because I'm wondering if our mobile devices are killing our eyes. I mean, are we going blind because of them?
That's probably a subject for another article. If you are interested in this, head over to the JCPAL site and lay down $39.99 CAD for it.
Okay, now let's talk about the Preserver Ultra-Tough Edge Glass Screen Protector. There doesn't seem to be any feature about blocking out harmful blue light, but it is aluminosilicate glass with "perfect clarity".
It has a PET 3D curved edge frame that is also easy to install and fingerprint-resistant coating. It is also quite scratch-resistant. I'm not certain what else I can really say about it, as this is pretty much a description of every screen protector ever made.
So, if you are interested in this Preserver Ultra-Tough Edge Glass Screen Protector, it can be purchased for about $39.99 CAD on the JCPAL site. I think those are Canadian dollars, so I'll let you do the fiscal translation.