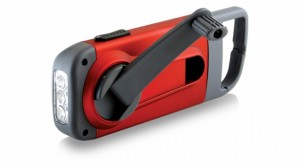 I have reviewed Eton's products before, and they are more than just good, but they encourage their users to save energy. This particular product is known as the the Clipray, and it is a flashlight that is both solar powered and crank powered.
In case you are wondering, cranking it for one minute is good enough to produce 10 minutes of light. By the way, it does have a female USB port, which means it is good for charging USB gadgets like smartphones. I don't know how long that will take, but that might be good exercise if I want to give that a shot.
It has 3 very bright LED lights, and it is made just to clip on to your belt. Hence the term Clipray, I guess. if you want to get in on this, just head on over to the Eton site and lay down $14.99.