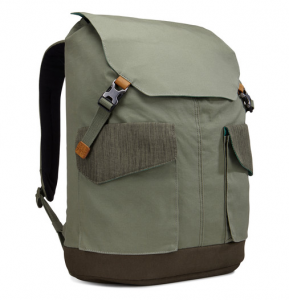 We have had a lot of fun reviewing Case Logic products before, and the last time was the Kontrast DSLR Camera Bag. We are now going to review another device made for holding with the LoDo Large Backpack, made for holding some kind of 15.6-inch laptop.
Not only can you hold a laptop in there, but there is a pocket there for an iPad there as well. There is a mesh pocket inside with a zipper for the accessories, and the top can be strung tight.
You will notice that there are two buckles there to hold it shut, and the two pockets on the back of this backpack as well. The pockets have snaps, but they are magnetic closing as well. The top also has a zipper pocket that is designed to hold a cellular phone.
The material is pretty soft, and I am told that it has a high quality cotton canvas exterior. Whatever it is, it feels pretty good, and the straps make it a comfortable load.
If this sounds like something that you want, head on over to the Case Logic site and lay down $84.99 for it.