It's hard to believe that it has been four years since I have reviewed an X-Doria product. The last time was a case for the iPhone 5 for crying out loud! Fortunately, I had the chance to review some other cases, and these are for the iPhone 7/8, so hooray!
X-Doria iPhone 7 Case Defense Lux Wood
X-Doria is well-known for its cases, and the Defense Lux case for the iPhone 7 (and 8) is made of some impact resistant polycarbonate. You can see the wooden exterior, but there is also an aluminum frame around this guy.
The end result is an iPhone 7/8 case with military grade protection, and it has soft kind of rubber interior lining and allow you to snap in Apple's smartphone. In fact, the frame opens out in a very unique manner that I won't even both to describe.
I am told that it has been drop tested to survive six-and-a-half feet drops on hard surfaces like concrete. You should be able to receive the iPhone 7 case Wood Defense Lux for about $39.99 on the X-Doria site, but it looks like its wooden cover comes in one color: bamboo.
X-Doria Defense Shield for the iPhone 7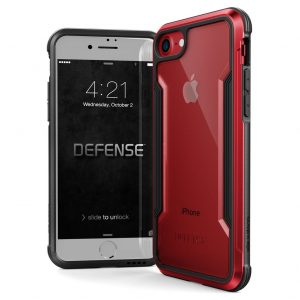 Now, let us talk about the Defense Shield. It has the hard polycarbonate, soft rubber, and anodized aluminum, but as you can see, it lacks the wood of that previously mentioned Lux case. Part of it is its machined metal, and it looks like there is also some rubber on there too.
I'm going to say that the review units that I have been sent look nothing like the image here. It's just a weird pattern in the rubber on it, but I'm going to just bring it up here.
I'll also bring up that the Defense Shield can withstand drops of 9.9 feet, which is slightly more than that Wooden Lux. Something I should also mention is how there is some kind of sound channel that can amplify the bottom speaker and redirecting the sound to the front.
I'm not certain how much these X-Doria Defense Shield cases cost, as they seem to be sold out on the X-Doria site. I may need to alter this article if something changes on that front.