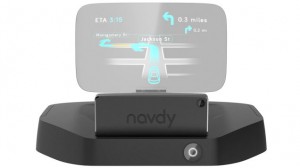 Remember those days when people had stand-alone GPS devices in their cars? That all changed when people could get map apps on their smartphones. Unfortunately, these types of apps led to all kinds of distracted driving accidents, which leads to the now-obvious solution of the Navdy.
The Navdy is a heads-up with a tiny projector on a 5.1 inch transparent screen. You can put the Navdy on your dashboard, and still read the information on it while you are looking through it.
With the Navdy, you can use your favorite apps from your iOS or Android smartphone. As an added bonus, the Navdy has an option of gesture and vocal controls so you can answer a phone call, send a tweet, and even send a text.
The Navdy is trying to achieve funds privately, and I don't seem to have a Kickstarter or Indiegogo page for it. You can find out more about it here, and even pre-order it for a price of $300. Check out the video after the jump.