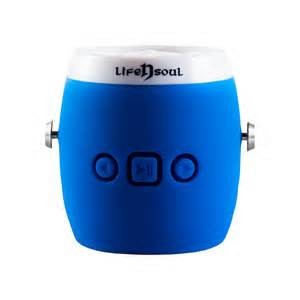 This little gadget makes a big sound! If you want a portable bluetooth speaker to listen to your device's music on the go, I think this would be a good investment! The bonus is that it is water resistant against splashing water from any angle! You can listen to your music while riding your bike in the rain!
Mark was introduced to Life n Soul before with other products like the MT 101 Bluetooth earbuds. They make other products, too, like other Bluetooth speakers, and headphones. I'll be reviewing another product by them that will locate lost objects in a later post. I've enjoyed testing out this Bluetooth speaker they sent us to review.
The speaker is easy to set-up. There is a USB cable to charge it. Once charged, it paired up with my phone quickly and painlessly. There are no apps you have to download to get it to work. Once paired, my phone automatically brought up my music, and I was amazed at the sound quality that came out of it! It took me a minute to figure out after the volume controls on the speaker weren't going any louder, that I just needed to adjust the volume on my phone. The bass is impressive for this tiny thing, and I like that that it glows and flashes when it is on. The BM101 comes in black, blue, pink, purple, or white. There's a stretchable strap so you can attach it to your backpack, bike handles, or wear it on your wrist.
Life n Soul sells this product for $24.99 on their website, and can also be found on Amazon, or in stores like Best Buy, Wal-Mart, and Staples- to name a few.