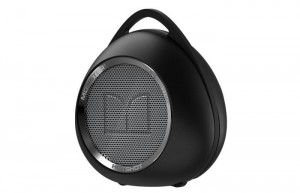 Well, it has been a while since I have reviewed anything from Monster. I don't know if I will go to their party at CES 2017, but I did get a chance to review three of their products: the Superstar HotShot Bluetooth Speaker, the iSport Victory Athlete's headphone, and the Monster Power.
The Monster SuperStar HotShot is known as a "Little Speaker with a Loud Attitude". The HotShot is small enough to fit in the palm of your hand, and you can see that it has a loop there for a clip.
Yes, this is made for life on the road, but it doesn't look as waterproof as speakers that I have seen from other companies. It does have a 5.5 hour play life, so it is good for at least the afternoon.
Oh, it is also NFC capable, and it can be used as a speakerphone for conference calls. It also is able to connect to any audio source with a wire as well.
All in all, it could make a good stocking stuffer provided your stocking has a wide mouth. Yeah, you might want to put this on top. It is available on the Monster site in black with neon-blue, black with black platinum, white with chrome, and black with gold for $49.99.