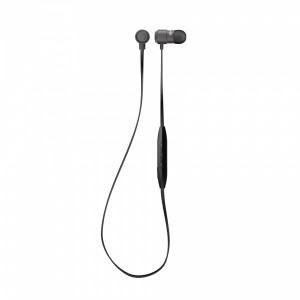 It's time for me to review another terrific Beyerdynamic product, and this one is the Byron BT wireless. Now, just to let you know, this is not one of those wireless earbuds that are like earplugs, but I'm hoping to review one of those type from Beyerdynamic later this year.
No, this is one of those earbuds that have some wires, but they connect to each other so they can go behind the neck. Speaking of connection, they connect wirelessly via Bluetooth, which is not new in any way. However, this uses Qualcomm aptX codecs with acoustic transducers. By the way, it has a three-button remote that allows for a hands-free microphone for taking calls.
So, yes, I have reviewed wireless earbuds like this before, like those from Jabra and others, so let's talk about the specs. If you are concerned about the playtime, it is good for about 7.5 hours. I am assuming that is a long time, but it takes time to charge it (about two hours).
I suppose that I can recommend these, but with so many companies making these type of wireless earbuds, I'm not certain that I can recommend one brand over the other. Of course, I am always going to recommend anything from Beyerdynamic, and you can purchase these on the Beyerdynamic website for $99.00.