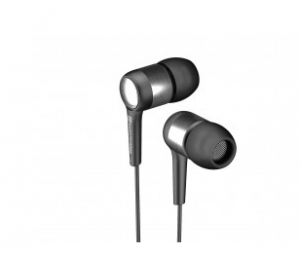 I have reviewed Beyerdynamic products in the past, and they certainly are some great audio products. Just these past few months, I had the chance to review the Beyerdynamic Custom Street, and these Byron Wired is more along the lines of iDX 200 iE earbuds.
These premium earphones have some seriously powerful neodymium speakers for some serious sound and bass. Then again, what would you expect from Beyerdynamic? They come with some silicone eartips for comfort and isolation, and it has a carrying bag included for even more classiness.
Normally, I don't included any pictures of the packaging on my reports, but the Android logo is featured prominently in the corner. I guess I can see why, as the iPhone 7 is missing that headphone jack, so why not promote some earbuds designed for mobile living to the Android devices that can accept something with a headphone jack?
By the way, there is a 3-button remote control and a hands-free microphone. I don't think I need to tell you how good the sound is, but it has a 9.0 mm speaker diameter if you want the tech specs.
You should be able to purchase the Byron earbuds on the Beyerdynamic site for about $49.95.