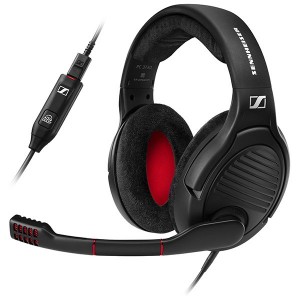 Yes, it is another day, and it is another pair of gaming headphones. The PC 373D is from Sennheiser, and I am not certain if I have reviewed a product from them before.
The PC 373D has 7.1 Surround Sound, which is welcome for any gaming system, but it is made for the PC. Yes, this is not going to be good for other video game systems, but the PC gives it an interesting take on the computer with PC software so the gamer can program his or her experience.
Sennheiser seems really excited about this product, and they are very excited about the transducer. I'm not certain what that is, but apparently there is some high-end open acoustic gaming sound in each earcup. It has an equalizer offering four settings that enables the user to customize the sound.
The earcup are velevet lined, and so is the headband. This means that you are going to have a lot of comfort and good sound, all at the same time.
Now let's talk about the microphone, as it is very noise-cancelling. It is made to filter out that pesky background noise, and if you want to mute it, just left it up. Also, it is very flexible as well.
While I am talking about flexibility, I want to talk about how flexible the whole thing is. Well, it might not be too flexible, but they are durable.
You should be able to purchase the PC 373D on the Sennheiser site for $249.95.