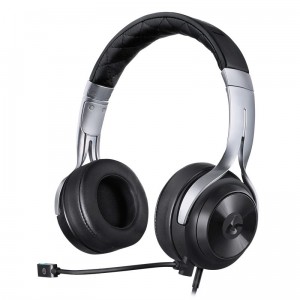 It's time to review another great gaming headset, and this one is from Lucid Sound, and it is known as the LS20. What is interesting is how this one is created for practically every platform including the PlayStation, Xbox One, Mobile, and PC.
One of the best features of this particular LS20 Powered Gaming Headset is that the controls are on the earcups. On the Left ear, there is a volume control wheel and a button for audio mute. Then on the right ear, there is a microphone mute button. As I mentioned before, the LS20 is made for mobile, so there are controls for music and calls. Speaking of control, you can take control of it with a mobile phone.
So, how is the sound? It quite good, of course! You wouldn't think it would be out if the sound sucked, do you? It has about 40 mm speakers with neodymium magnets, and it has a serious bass boost. It also has active and passive modes as well.
Other features include a rechargeable battery for up to 20 hours of charge, as well as being available in black and white. You should be able to purchase it on the Lucid Sound site for $99.99.