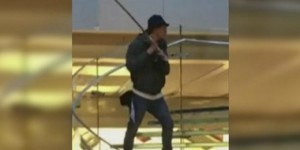 This is an interesting time that we live in after the Paris attacks. I actually was going to publish an article about those, but my editor at the other website that I write for thought it would bring too much fear.
I decided not to publish the op-ed piece, and I recently heard that this story happened as a man with a samurai sword entered the 5th Avenue Apple Store. He swung it around and screamed at people. Two officers were in the store and escorted him out, and he kept screaming and swinging.
Considering that there has recently been a video released by ISIS showing New York City and a suicide bomber getting ready to strike, I can see a lot of fear going on, especially in NYC. With the Macy's Thanksgiving Day Parade going on, I can see that a lot of people are afraid of what could happen.
It turns out that the swordsman guy wanted to harm himself. He was then escorted to Bellevue hospital, and I honestly hope he is okay. Fear can drive anyone crazy, and I'm guessing that this is what terrorists want to do. I'm not going to let them.