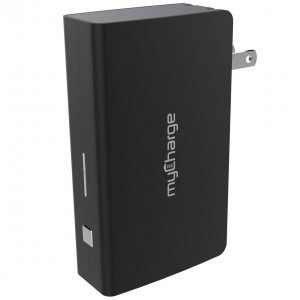 Yes, it is time to do another review of three products in a row, and this time it is from myCharge, a product that I have reviewed in the past. I'm going to start with the with the AmpProng+.
The AmpProng+ is one of those mobile batteries, and I have reviewed so many of these that I am not even going describe what they do. However, I'll go ahead and describe what special features this has.
AmpProng+ is a 6700 mAh portable charger, which means it is good for up to a 4X charge on a typical smartphone. You can charge it by plugging it into the wall, and then you have two 2.4A output on double USB ports.
Yes, you can charge two devices with this thing if you like, and why shouldn't you? You probably have at least two mobile devices that could use a little juice as you are on the road. It can power tablets and smartphones up to 65 percent faster, which is very, very nice.
I will have to say that the AmpProng+ is very light, and it is good for holding power for about a year. It is recommended, and you can get it on the myCharge site for about $49.99.