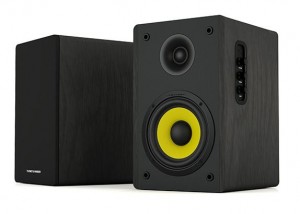 I'm pretty pleased with Thonet and Vander, as I saw them on display at CES 2016, and their speakers look like something that would be prized by audiophiles. Sure, I am not an audiophile, as it is always difficult to review speakers and evaluate them for sound as I have only human ears.
So, now it is time to give the specs like how Kürbis Bt with a power output of 60 watts RMS, that's 30 watts for each speaker. After testing it out with something simple like my cellular phone, I wasn't expecting to get the sound that I got. By the way, the Bluetooth has a range of 10 meters.
Thonet and Vander calls this "Hammer Bass", and it certainly hits like a hammer. Again, this is about all the science like an antimagnetic shield , the mesh protective cloth, as well as some bass reflex. Again, I don't really know much about the sound and how it is produced, only that it is producing it. But hey, can you argue with 5.25-inch woofers and 1-inch tweeters.
So, yes, I will recommend the Kürbis Bt speakers because, they are quite darn nice. You can find more information about it on the Thonet and Vander site, and on Amazon for $179.99.