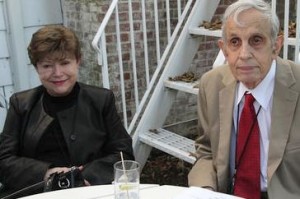 This is a time that I am sad to report that John Nash and his wife Alicia, died in a car crash in New Jersey on Saturday. Apparently, the two were in a tax that lost control and hit another car.
If you have never heard of John Nash, he was a brilliant mathematician, and the only reason why I know him was because he was the subject of a film called A Beautiful Mind, which is one of my favorite films. In fact, I just mentioned the film in my review of Winter's Tale, which was written and directed by Akiva Goldsman, the screenwriter for A Beautiful Mind. Russell Crowe portrayed Nash pretty brilliantly in the film, and he tweeted a tribute with: "An amazing partnership. Beautiful minds, beautiful hearts."
A Beautiful Mind depicted Nash's work and showed his struggle with schizophrenia. Even though the film won four Academy awards, including Best Picture, it is sadly not very accurate. The film shows Nash encountering delusions of cold war spies, but I've actually heard that his hallucinations were even more outrageous. Still, I admire the spirit of what the film was trying to accomplish, as it shows how debilitating schizophrenia really is.
The film also showed that John and Alicia were together after many years, and were still together after 60 years in real life. Sadly, there was some time apart, as well as adultery, but like the ending of the film, things seemed to work out for the couple, I believe. John will be remembered for his 1994 Nobel Prize as well as his work in game theory.