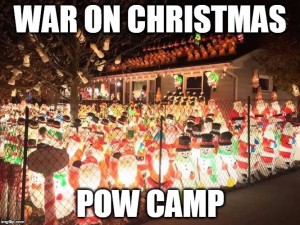 Starbucks hasn't announced their cup design and Halloween is a couple weeks away, but Donald Trump made sure to start the fires early at his speech at the Values Voter Summit today. This group, composed primarily of Evangelicals, gathers to discuss items like traditional marriage, religious liberty, sanctity of life and limited government.
Trump has made sure to fuel the "us vs. them" mentality, by telling attendees that, "We are stopping cold the attacks on Judeo- Christian values."
He went on,"We're getting near that season that people don't talk about anymore. They don't use the word 'Christmas' because it's not politically correct."
He complained that department stores will decorate, and they'll say other things. But guess what? Donald Trump says "we're" going to say "Merry Christmas" again! Hallelujah and pass the potatoes!
Look, I like Christmas. I will wish you a "Merry Christmas" if I know you celebrate. I will wish people I don't know "Happy Holidays" because it's a nice thing to do. It doesn't mean that I've stopped loving Jesus. I'm not embarrassed by him. I AM embarrassed by Christians who have to throw tantrums if people don't celebrate the way they think they should. I am embarrassed that this season that is supposed to be about love is becoming a season of "This is a Christian nation, and we are persecuted because people are being politically correct." I AM embarrassed by the leader of the free world acting like a twit, and Christians fawning all over him.
Trump is not bringing Christmas back to America. It's always been here. Our last president celebrated Christmas and, no, he didn't call them holiday trees like the internet rumors say.
Maybe Trump should stop fueling wars on his home territory. I worry about the real wars we are facing.