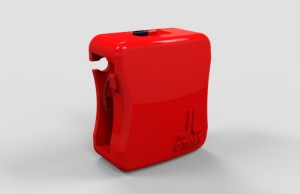 Okay, today I am going to talk about something that isn't really high-tech, but it does solve a big problem that is inherent with any pair of wired earbuds. I am talking about the tangling of the cords, and there is nothing more efficient to de-tangle them than D-Tangle.
So what is D-Tangle? Well, it is made by Laidback Life, a company out of Cyprus to help everyday products easier. Surely, you have had a problem with your earbuds getting tangled up, because it happens on my desk every day. What makes it harder is when you keep your earbuds in your pocket or purse.
Like most reviews of a unique product, I decided to simply embed a video here so you can see how it works. As you can see, you pop off the plastic thing on back, and then put your earbuds in. Then you pop the plastic thing on top, and a switch allows the earbuds to retract on both ends: the jack end and the earbuds end.
There's not a lot more that I can say about this product other than praise its super-usefulness. You can purchase it on the D-Tangle site for €11.90 in blue, red, black, white, and yellow.