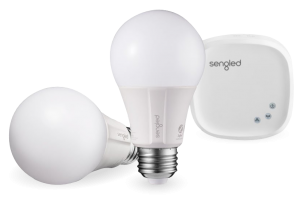 After reviewing that Sengled Pulse Solo stereo light bulb, I was anxious to see what the company also had. I had a great time reviewing the Sengled Element Classic Kit A19, and I'm going to tell you all about it.
In fact, there is a funny story behind this. I asked to review the A19, which is a light bulb that you can take control of with your smartphone/tablet. Unfortunately, all I got was the light bulb. Seriously, that happened.
Yes, as you can see in this illustration, the Element Classic Kit A19 comes with two smartbulbs and this white square with rounded edges. What you need to do is hook up that white square to your router, and this allows you to take control of the light bulbs.
What you need to do is download some kind of application after you plug in the white square. I found that it was pretty easy to set up with the included light bulbs. If I wanted to set up with another lightbulb, it is pretty simple to set it up, provided you can get your smartphone/tablet to scan the QR code on it.
The application allows you to turn your lightbulbs on and off, and you can adjust the brightness as well. It was a shame that the basic kit didn't have a way to adjust the colors, because that would be quite cool.
It is worth getting this particular kit, as you can purchase the kit on the Sengled site for $49.99. Additional light bulbs can be purchased for $9.99.