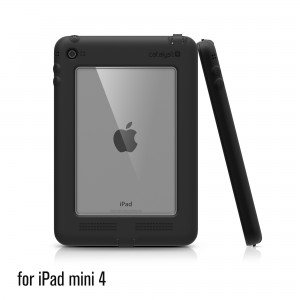 Well, in an age where everyone needs a case, and there is a lot of good ones like Lifeproof and Otterbox. The last time at CES, I had a chance to review a case from Catalyst for the iPhone 6/6S.
This one is for the iPad Mini 4, and it is Waterproof IP68, and it is waterproof up to 2 meters (6.6 feet). So, it is also dirt proof, snow proof, and drop proof. For the drop proof part, it has a premium rubber bumper for a soft grip.
The case comes in two pieces, which can sandwich together to form a lot of transparent goodnees. Not only does that front give something completely transparent to access the iPad touchscreen, but the back is transparent so the Apple logo can be seen. You can even access the Touch ID with extra-large ports to accommodate the charging and headphone jack.
So, if you are an iPad Mini 4 user, and you want to get in on this Catalyst protection, it is available on the Catalyst site for $89.99.