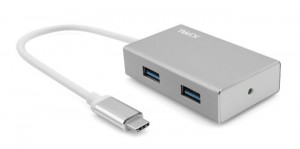 I don't know why I have never heard of JCPAL products before, but I can tell you that they certainly make some useful stuff. Today, I am going to be looking at the LINX Ultra Slim USB-C to 4-Port USB 3.0 Hub.
I believe that the purpose of the 4-port Hub is to connect to a range of USB A devices to your MacBook's USB-C port. This way, you can access a hard drive, printer, or anything else that uses USB, which is just about everything.
MacBooks aren't the only thing that the 4-port Hub is good for. I had a chance to try it out on my HTC 10, and I was able to use the 4-port USB A Hub to read files on thumb drives. I could also use it to recharge USB devices, as I just used the battery in my HTC to charge my Bluetooth headset.
In addition to that, the 4-port Hub has the latest 3.1 standard for high speed data transfer, and if you like it, check it out on the JCPAL site. It can be purchased in gold and silver for $49.99 CAD.