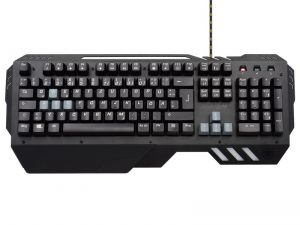 Every once in a while, I receive something in the mail/UPS/FedEx/DHL that I didn't expect, and so I feel a need to review it. This is what happened to me today with the Snakebyte Key:Board Ultra, and since this is a keyboard review, I feel compelled to type my review on it to get a better idea of what is going on.
First of all, I need to talk about its arrangement. I am not certain how well you can do this as a reader, but go in closer for a close-up. On the first glance, it looks like a QWERTY keyboard, but it is in fact a QWERTZ keyboard.
This is going to show my ignorance, but it would appear that the "Y" and "Z" keys have switched places. I'm going to assume that this is how it is supposed to be for certain languages, as I noticed that the instructions on the box are in English, French, and German. This would explain why some of the vowels on the right side have those two dots over them, and I am not certain what those are called. As I said before, I am ignorant, and I'm pretty certain that you can switch it. As it were, it defaults to the keys that I am used to hitting on a QWERTY, which means "Z" is "Y" and vice versa. It makes sense if you type with it.
I found that the Shift key on the left side was a little too small. Normally, it is two keys thick, but it is only one key, with mistakes ending up with the "\" symbol before a small letter.
This is a mechanical keyboard made for professional gamers, and I am assuming that it means you can use it for speed, because I feel a certain increase in the speed at which I am typing this out, minus on the aforementioned keyboard errors that I keep making. Still, the programmable macros ought to be able to help the PC gamers out there.
Also as a bonus are the 18 different types of lighting effects, which really make the keyboard stand out in the most effective way. Heck, it seems to fit in with the Christmas lights for the holiday season.
The construction is also this cool metal frame that even has a rubber coated hand rest. It really is quite something, and you can find out more information about it on the Snakebyte site. Now, here is where I normally put the price of what I am reviewing, but honestly, I just can't seem to find it no matter how many Internet searches that I have done.