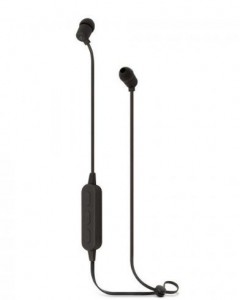 It's been a year since we have reviewed a MOXYO product, and I enjoyed their earbuds, charging cable, and powerbank. Today, I had a chance to review a Blueooth set of earbuds with the Mission Wireless. I'm not certain if they are called Mission Wireless as a sequel to the Avenue earbuds that I reviewed before (you know, like Mission Avenue), or it is some kind of spy reference like Mission: Impossible.
I will have to say that I will describe the design as minimalist, but this is for lack of a better word. I mean, we live in a world where Bluetooth earbuds are a dime a dozen, even though they don't cost that much. I find that MOXYO has a good price, and it gives a lot.
I'll start by getting the specs out of the way, as the Mission Wireless is good for six hours of playtime. The range is the usual 33 feet (10 meters), and I say "usual" because that is what I have discovered is the range for most Bluetooth.
The Mission Wireless has a controller with a quick press for the volume control and long press for skipping forward/backward. The last remaining button is for the on/off to take a phone call, which is again a usual feature for Bluetooth earbuds.
I hope that you aren't noticing the word "usual" and think that these earbuds are so-so. There is an interesting cable cinch allowing for a "perfect fit", and that is pretty great.
You should be able to purchase the MOXYO Wireless Earbuds for about $39.99 on the MOXYO site.