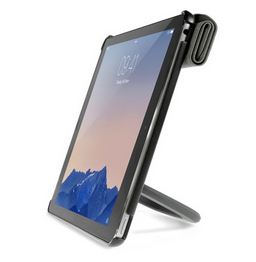 Today, I am completing the Native Union trilogy with the Gripster Wrap for the iPad Air 2. There is a lot of to say about this stand/case/wrap/grip for the iPad Air 2.
Yes, there are a lot of interesting features on the Gripster, and one of them is the grip. It is this elastic strap where two fingers can be placed and the iPad can be held very steady. Around this strap is a very cool ring that can serve as a stand if you prop it up. By the way, it is possible to rotate this ring as well, so you can stand it up in portrait or landscape view. The Ring can serve as a handle so you can carry your iPad Air 2 like a briefcase.
What is interesting is the magnetic cover, which I'm going to say is pretty close the iPad Smart Cover that came out with one of the iPad's a while ago. You know, that one could turn into a triangle. This one can become a square and even roll up very tight.
I've reviewed a lot of intriguing iPad accessories that did one of these things, but this the first that has really done them all. You should be able to purchase the Gripster Wrap for the iPad 2 on the Native Union site for $59.99.