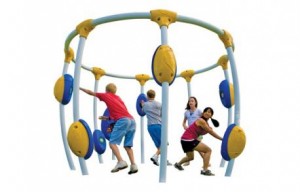 If you go to any playground, whether it be in the back of a schoolyard, or public park, there is something missing. This would be technology. It really is hard to believe that swings and slides haven't really changed all that much since I was a kid, or when my parents were kids.
This could change thanks to the NEOS 360 from Playworld. This particular piece of playground equipment is made for the electronic age. It features games where kids can run around and touch spots, encouraging play and exercise.
I saw this demonstrated at CES 2014, and I was pretty impressed. Even the adults liked running around and hitting electronic targets. In addition to this fun, Playworld has recently launched a service using "Microsoft Tag to provide 24/7 mobile access to useful information for both maintenance professionals and anyone using the equipment".
Something tells me that we might be seeing Playworld equipment everywhere. The company has the regular type of playground equipment, sans tech, but will there be a day when every piece of playground equipment will be connected?
If you are interested in the present and/or future of Playworld, check out their site here.