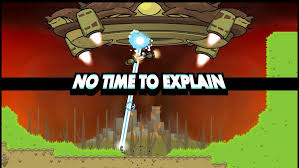 Since I get an opportunity to test out Steam games every once in a while, it is great to see one that is just plain insane. In this case, the insanity completely works for No Time To Explain.
No Time To Explain is a remake of tinyBuild's debut game, and I guess I never played the game the first time. I really wish I had, because this game is a whole load of fun. The game has extremely minimalistic, as South Park has better graphics. That just doesn't matter, as this is one of those games that sells on its premise alone. That is, if I knew what the premise is.
This game opens as the main character is just standing around his house one day when the wall cracks open and his future self comes in. After saying the game's title, the future self is attacked by some crab-monster. The future self leaves behind a big rectangle that is essentially a gun as well as a jet-pack. Seriously, it can blast, but if it is held down, it will blast the player upward.
From there, you need to go through levels with the gun to blast through obstacles and fly across gulfs to get to this vortex to end the level. When the level ends, the player character will often change, as does reality. I have no idea why this is happening, but I just don't care.
There are some really cool boss levels, and I loved the time I had playing this. It is what certain video games should be: fun, and yet crazy at the same time. You should be able to get it on Steam now.