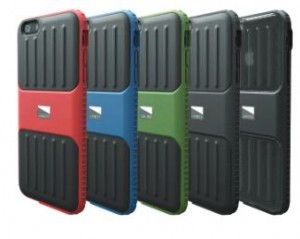 BGZ Brands has recently unveiled a new brand known as Lander, and it is one of those tech accessories made for outdoor enthusiasts, kind of like EKUSA products. I'm hoping to get some hands-on review products of these, but this is what I've seen from them, and it's pretty impressive.
For example, there is a Neve cable that is flat and made for Apple, USB to Micro USB, auxiliary to auxiliary cable and more for a price range of ($17.95-$29.95). It looks like it is made tough and hard to pull out.
The Powell cases, as you can see here, have those cool ribbed sections on them, with a splash of color. They will be available for the iPhone 6, iPhone 6 Plus, and the Samsung Galaxy S6 for a price of $34.95-$39.95.
Then there is the Brenner case for all sizes of the MacBook for $49.95. There are also Timp carrying bags: 25-liter ($129.95), 20-liter ($99.95), and messenger bag ($79.95).
Well, we'll be certain to report on more when we get more info on them, and some of these items are available now. Check out more information at the Lander site.