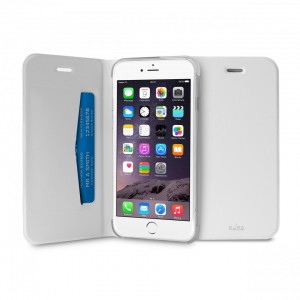 We had a great chance to review several new products from PURO, and these particular items are made for the iPhone 6/6S and the iPad. I'll star with the Case WALLET for the iPhone 6/6S.
This is one of those cases that opens like a book, and then there is a place to hold a credit card. Perhaps this is meant to hold a driver's license, and you don't need cash or another credit card because you are using Apple Pay, right?
I have to admit that this looks pretty stylish, and it probably isn't made of leather. It does have the cool Folio case job so it can be stood up and watch video from a landscape point-of-view.
It is available in gold, silver, black, and white color versions on the PURO site for $39.99.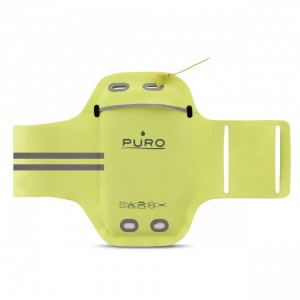 The next item is one that I have been reviewing a lot lately with the Allsop ClickGo and the Tunebelt products. This is the Universal Armband for smartphone up to 5.1 inches. Though you can't see it in the image, there is one of those transparent covers that allows you to access the touchscreen on your mobile device.
On the other side, this is place for a key, and this isn't also not on the picture. The reflective stripes are, or at least the model that I have. Since this is a Universal phone holder, there is access to 4 headsets for compatibility with just about anything that you can stick in the pocket.
As I said before, I'm not certain if the one that I received is the one that is on the PURO site, but that is available in three colors for $29.99.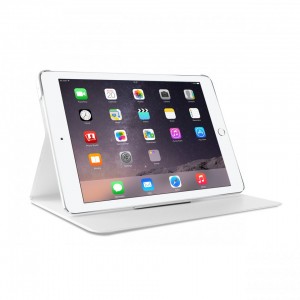 This next product is the Case BOOKLET SLIM made for the iPad Air 2. I am told that it is made of eco-leather, and I am pretty sure that isn't real leather.
As you might have guessed, this is one of those Folio cases for the Apple tablet. There is an inner stand to hold up the iPad at an angle on an anti-slip mat. If it is closed, that is good for protection, and it has that wake/sleep capability as well.
It looks like this is only available in one color, and that is black. It is available on the PURO site for about $54.99.
The last thing that I have to review is the Just Cavalli the Leopard anti-shock cover for the iPhone 6/6S. I'm not certain what else I can really say about this.
I mean, it is a case, and I have to admit, it has a unique feel. It doesn't feel furry like real leopard fur, but it has kind of a rubbery feel.
You should be able to find this case on the PURO site for iPhone 6/6S for $34.99.