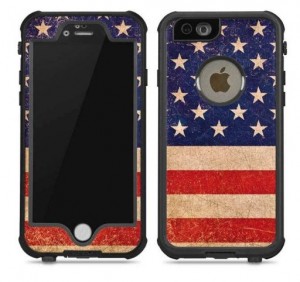 I have reviewed a lot of interesting waterproof cases in the past, and I will have to say that this one from Skinit is more affordable than something from Lifeproof.
The Skinit has an impact-resistant shell case that will protect from drops, bumps and falls. Yes, any case will do that, and aren't cases required for iPhones since that iPhone 4 problem? Yeah, I don't hear about that anymore.
This one has a hard shell case to make it one hundred percent waterproof. It is waterproof up to a depth of 20 feet, and allows for all kinds of things like e-mail, text, and looks great for beaches and other summertime activities.
In case you are wondering whether or not you have to get the cool American flag on the cover, you don't. You can create your own cover for your case on the Skinit site, and that goes for Mugs, Canvas, Bumper Stickers and more.
The case in question is about $39.95.