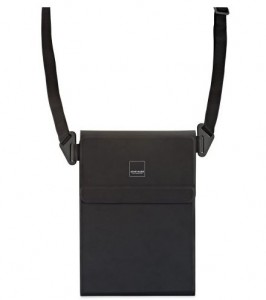 We received the Ergo Book Sling for iPad Air from Acme Made to review. If you like to use your iPad while walking around, you definitely want to look into this product!
The Ergo Book Sling has an adjustable/removable strap that allows you to carry your iPad like a purse (or a Murse), and you don't even have to take it all the way out to use it while you are strolling along. You can simply slide your device out a bit if you need to take a picture, or you can rotate it using the QuickSpin 360™ feature to view your tablet in a landscape view. There is a pocket to carry credit cards or other items- so you don't even have to carry a separate wallet- perfect for the person always on the go. I would exercise caution, though, and not try to walk while using your device, or you could end up like that person who fell in the mall fountain while walking and texting.
When you are not wearing it to use your iPad on the go, you can detach the straps, and the Ergo book sling folds to become a stand for the device- which can also be viewed in a horizontal or vertical position. The case comes in a super slim design and has a smooth and stain-resistant outer shell. You can also buy it in a size for your iPad Mini. Note that it will not hold an iPad Air 2, and they currently have no plans to make one for that size, but may reconsider if there is a high enough demand.
The Ergo Book Sling for iPad Air is available for purchase for $79.95 on AcmeMade's site and also in the Apple store.