Today is a good day for a great review, and these products from Vibes Audio are something really fantastic. It isn't every day that I see products that are very useful, but this is up there with the Fingerpow Magnetic Charger.
Vibes Audio Baserox Modular Phone Case
I believe that this particular device is called the Baserox because it is the start of a base to build your foundation on. The Baserox Modular Phone case is made with a particular large hole in back, but this is for a specific purpose. This hole is made to fit the Vibrox Sound Engine Bluetooth Speaker as well as the Voltrox Power bank, but I will go into detail about later.
I am not certain what kind of materials that the Baserox is made of, but it is made for drop protection in a thin form factor. What I really want to talk about is the giant hole known as the StickMount Adapter.
That Adapter is made so you can put in the Vibes Audio Sound Engine for a Bluetooth Speaker or the Voltrox Power Bank battery. I believe that this system is set up so you can swap out one for the other. Not only that, you can remove your Vibes Audio Bluetooth Speaker or Mobile Battery so you can share it with a friend.
You should be able to purchase the Baserox for the iPhone 6/7/8 (also for the Plus models) and the Samsung Galaxy S7 and S8 for a low price of $29.99 on the Vibes Audio site in black or white.
Vibes Audio Voltrox Power Bank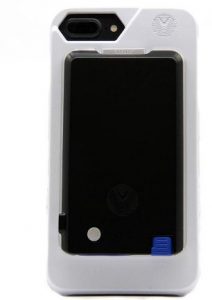 Okay, the Voltrox is a mobile battery, and by now you know the drill. You know, if your smartphone needs some juice, you just plug it into one of these. How many times have I reviewed one of these? Better yet, how many times have I mentioned that I have reviewed one of these?
The Voltrox Power Bank has the unique ability of clicking to the back of the Baserox. You can also just remove the battery to plug it into something else. The one I had was for a USB-C, but it is available for the Apple Lightning and USB Micro.
If this is something that you like, you can go to the Vibes Audio site and lay down about $49.99 for it, but you might not stop there.
Vibes Audio Vibrox Sound Engine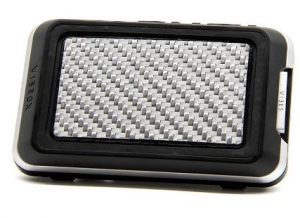 Again, this is a Bluetooth Speaker, and yes, I have reviewed these before too. Of course I am going to talk about how I have done this before, but how many Bluetooth speakers can fit snugly in back of the Baserox.
If you see the site, you can see the Vibrox has this unusual speaker that can make water ripple. I suppose that is to show off that the Vibrox is waterproof, and how its sound works. I found that after I had paired my phone with this speaker (who had a very seductive voice, if I might add), I was able to put this on the table and have an interesting amplification effect.
Not only can you attach this speaker to your smartphone with the Baserox, the Vibrox also comes with a detachable stand so you can really rock out. Oh, by the way, it has a built-in microphone, so you are capable for 2-way calling.
You can get the Vibrox on the Vibes Audio site for about $149.00 in black or white.