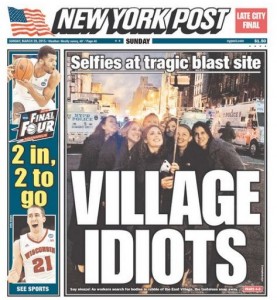 Some of you might remember when we reported on that girl in a bikini who was taking a selfie, and I didn't just report that because I thought some bikini girl would get more hits. Today, there is another issue with selfie that I would like to write about.
This one took place in New York City after what looks like a gas explosion in the East Village destroyed three buildings, injuring 22 people and left two people missing. I'm sure the police surrounded that area and told people to "move along", but this group of women got themselves a selfie stick and shot a picture.
Yeah, it is no wonder that the New York Post had the headline of "Village Idiots". It is a play on of the fact that this took place in the East Village, and these people are…I don't want to insult anyone. Seriously, this is not a time to take a selfie, and do I really have to explain why?
Meanwhile, the two missing men, 23-year-old Nicholas Figueroa and 27-year-old Moises Locon remain missing. My source also said that some other Instagram user took a shot of herself with a "peace" sign, but at least this one was taken down. As for the group of women, I'm just going to say that these people are probably going to get a lot of negative Internet feedback. I don't think I'm going to add to it.