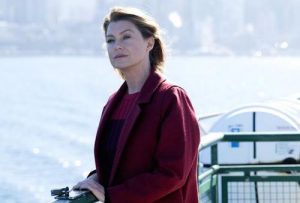 Only 4 of the original characters remain, but Grey's Anatomy has lived on for 14 seasons, and tonight, ABC's hit show will celebrate this momentous occasion with some hat tips to former characters.
Chandra Wilson (Dr. Miranda Bailey), Justin Chambers (Dr. Alex Karev),  James Pickens Jr. (Dr. Richard Webber), and of course, Ellen Pompeo as Dr. Meredith Grey will see their former co-workers and friends- Izzie, Christina, and George… at least in spirit, as their look-alikes in the form of patients will bring back some nostalgia.
Through bombs, plane crashes, boat crashes,a mass shooter, and more, Meredith Grey has pulled through like a cat with nine lives to keep us captivated since 2005.  The show has done more than just entertain, though. Pompeo recalled a fan telling her that the show saved her daughter's life.
"There was one storyline where we had a kid with a heart problem that presents as the flu and doctors overlook it," said Pompeo. "We got a letter from this mom saying, 'The hospital sent me home saying I didn't know what I was talking about and I resisted. Sure enough, my child was diagnosed with this and she's alive now because of that episode.' "
Here is some trivia for you. ER, another popular hospital medical show lasted a total of 331 episodes. Could Grey's Anatomy top that?
Here's a sneak peak offered by Ellen Pompeo on The View today.
P.S. Happy 10th wedding anniversary to Ellen and her husband today, and also, tomorrow is her birthday!