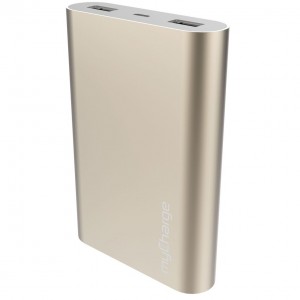 Okay, it is time to conclude this myCharge trilogy with the RazorUltra. I don't know if it is related to the Razor Platinum, but it has "Razor" in the title, so…maybe?
It doesn't look like the RazorUltra is made for charging a laptop, but it is cable of charging two tablets at the same time, because it has two USB ports. It has about 12000 mAh worth of power, with 3.4A output, and it is rechargeable via included micro-USB cable that can plug into the wall.
So, it is good for 90 hours worth of power, and it has the myCharge ultra-fast charging up to 65 percent fast of its competitors. It can also recharge up to 50 percent faster than its competitors. Oh, it can hold power for up to one year.
All that, and it is made of anodized aluminum. It is available on the myCharge site for $59.99.