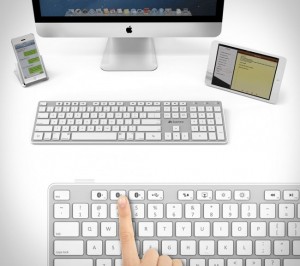 I have written a lot about Bluetooth keyboards before, and there isn't a lot more that I can say except that they are wireless. Do I really need to say that it goes without saying? Because I sort of just said it.
I have also reviewed a lot of Kanex products, like the Sydnee and the mySpot. I really got to admire Kanex's Multi-Sync Keyboard, as it is the only keyboard that I know that allows you to quickly change from iPhone, to iPad, and Mac. All you need to do is just hit one of the three buttons to switch from one to the other. So if you are trying to do something on your iPhone, Mac, or iPad, you can just type everything.
The keyboard is a full numeric type with arrows, and has some cool hot keys like Brightness control, Volume control, and all kinds of media functions as well. In addition to those features, the Multi-Sync keyboard also has an iPhone/iPad stand to really help your Apple command center.
Yeah, I will recommend this for owners of the trilogy of iDevices, and you can get it on the Kanex site for about $69.95.