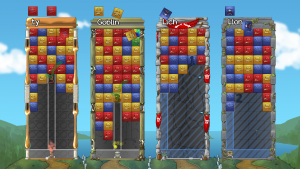 I believe that this game just went live today, so I can review it. I have had a chance to review it early on Steam, and it is quite interesting.
Tumblestone is a great game if you are interested in those Match 3 games. You know, like Candy Crush, Bejeweled, and such stuff like that. I was personally addicted to one called Sugar Smash, that was a deliberate rip-off of Candy Crush based on The Book of Life movie. Now I'm in to Juice Jam, which I don't think is a rip-off of anything, but I like.
Tumblestone isn't really a match 3 game. How it works is that you have to knock out three blocks of a certain color, but they have to be done in a certain order. You can only take out a visible row, and the challenge is to take out the bricks on the row below so you can get to the bricks up ahead.
It makes sense if you play it, and if you keep going, you will get to levels where the bricks are descending on you so you need to get rid of them as fast as possible. In fact, this is one of these games where you can play with others, and the one who finishes first wins.
What is interesting about this game is that it is free on the Xbox from July 16 to August 16 if you are part of Microsoft's Games with Gold. Sure Tumblestone is worth it for free, but it is also worth the $24.99 on PlayStation 4, Wii U, and Steam. There is apparently a forty hour campaign, so it is possible to have a good deal of gameplay with this one.