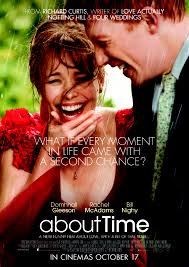 About Time
, this film is probably best classified as a romance. Apparently, the creators of this film also created
Love Actually
,
Notting Hill
, and
Four Weddings and a Funeral
. If these aren't woman-targeted romances, I don't know what is.
The film About Time is about time travel, and I have said before that time travel is kind of a genre-within-a-genre in speculative fiction. The one thing that I have noticed about time travel films is they tend to all boil down to the same plot. Someone goes back in time to do something, and they end up goofing up the timestream in some way. As a result, they have to go back into the past to protect the present, and eventually the future.
About Time is about a man named Tim who discovers that the men in his family have the power to travel through time. It apparently manifests on their twenty-first birthday, and the time traveling only works within your own lifetime. Why does this happen? Who knows. When Tim's father asks his son what to do with his newfound ability, Tim says that he wants to get a girlfriend.
From here, it becomes a love story as Tim meets Mary. Tim meets her at some "dining in the dark" restaurant, and they really hit-it-off. They exchange numbers, but Tim decides to use his time traveling ability later that night, and he ends up preventing his meeting with Mary. Fortunately, Tim manages to track Mary down, and he meets her another way. Unfortunately, he screws up the timestream again and Mary actually has a boyfriend. So then he has to fix the timestream again!
So how does this movie exist? After all, how can there be any conflict in this movie if the main character can just go back in time and fix it? This is actually what killed the show Heroes. If you are not familiar with this show, there was a hero named Hiro (get it) who had the ability to move through time and space. The show would usually end with some big cliffhanger, but then Hiro would just undo the big event with his power.
About Time could have been a film like Groundhog Day, where a character is stuck in a loop of time. It also could have really been very far-out, with all kinds of time travel problems like those on any typical episode of Doctor Who.
This is why this film works, because About Time is about how the main character doesn't use his power. Seriously, this is pretty much what this movie is about: falling in love and living in a world where you can't just go back and do it all over again. I'm not sure how much of a spoiler I have just given, but I will have to say that the film is worth watching.
No Comments