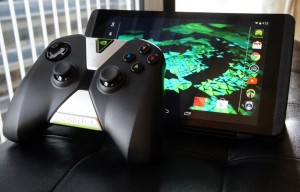 Nvidia Shield
It also runs KitKat (Android 4.4), has a Micro SD expansion slot for boosting internal storage up to 128GB, and has both front and rear facing camera, not to mention speakers. Of course, it is the Nvidia Tegra K1 192-core chip that you want, which will make this Shield "the" tool for mobile and PC gaming. It will have 16 titles available on launch, and they will run like you are playing them on a console.
In fact, you can even put the Shield in a "console mode", which is able to stream this tablet's graphics to the TV via HDMI cable, with up to 4K resolution if the display will support it.
By the way, there is also a Shield controller, which looks like the PS4 and Xbox controllers have had an offspring. It is wireless, but it uses Wi-Fi direct, which means it has a faster response time. You can also use a Bluetooth controller if you want.
If you want the Shield Tablet at the end of this month for about $300. This is for the Wi-Fi only 16 GB version. The controller is an extra $60.
Source 2
No Comments