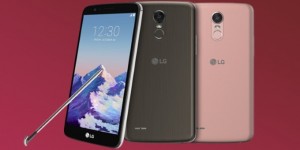 I rarely get chances to review smartphones, and I always want to make certain that I max them out. In this case, I wanted to make certain that I had a chance to try out the LG Stylo 3, so I loaned it to my teenage daughter. I figured that if anyone could use up a smartphone, it would be that crowd.
For those that are unaware of the LG Stylo series, it is quite something as it comes with its own Stylus. It is not necessary to use the Stylus to use the Stylo 3, but I have to admit that it is really handy.
In fact, when you pluck out the stylus from the side of this particular smartphone, you will discover a world of stylus activities like Pop Memo, Capture +, Pop Scanner, QuickMemo+, and Tasks. I was pretty amazed that when I went to write a memo with this, I was able to print with good calligraphy. Most of the time, when I use a stylus to write on my touchscreen, I get what you get when you sign your signature after you slide your credit card.
I have to admit, I really like that for a phone. There is also this bonus of having a fingerprint sensor on the other side that also functions as a power button. I don't know how unique that this is to most new smartphones, but usually everything comes with a fingerprint reader.
All that, and the camera is quite something. If you want to get in on this, it is available in rose gold on Cricket wireless for $169.99. It has no annual contracts and available on the nationwide 4G LTE network.