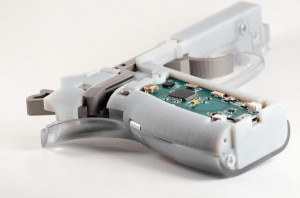 I think we all want to prevent the amount of gun accidents, and I found it amazing that Kai Kloepfer, a Boulder high school student, came up with a way to make it happen.
Kai is the grand prize winner for SmartTech for Firearms Challenge, and his design uses an embedded fingerprint sensor on the gun itself. These fingerprints can only be used on the gun, so it can't be hacked like a cloud database. You can see the image there, and I can't help but be reminded of a Wiimote accessory.
In case you are wondering why you haven't seen a gun with a fingerprint sensor before, the answer is that guns with fingerprint sensors have actually appeared before. I mean, I seem to remember guns in speculative fiction movies like Lost In Space and Judge Dredd that required some kind of ID on account of the user or they would fire.
Those movies that I just mentioned are quite old, or at least 15 years old. So I'm guessing that smartguns just aren't commonplace as much as they could be. Perhaps the better phrasing is should be.