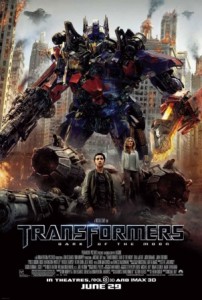 I keep calling this film "Dark Side of the Moon", but it is actually "Dark of the Moon". I guess Pink Floyd has the trademark on the former. I would have to say that this is my second favorite of the Transformers series, and I think that it is just because of the action. I remember seeing it in some dollar theater and wishing that I had paid full price to see it in 3D.
In all honesty, I wish that this was the second movie of the series, but at least the second film established that Megatron had been resurrected. Still, there is a lot going on this film, and you don't necessarily need that villain.
The plot of Dark of the Moon really takes Transformers back to its roots. In fact, the plot of them was a combination of a two-part episode of the animated series and a three-part episode. I'll explain what I mean by that later.
The movie does a retcon again by saying that the Autobots had a ship that crashed on Earth's moon. Man, how many times have the Transformers visited us in the past? Every movie brings up some new historical element that affects the plot, but we really should have established this.
Anyway, the Autobots investigate the wreckage of this ship on the moon and discover a former leader named Sentinel Prime. They also discover some interesting technology that can transport matter, like entire planets. The Decepticons want this technology so they can transport their homeworld of Cybertron into Earth's orbit, and they don't care about what damage that will cause. This is the premise of a three-part episode of the first season of the animated series, and it certainly creates a pretty epic plot with a proper set-up for an epic conclusion.
Mixed in with this plot is how the Autobots interact with Earth's military, and apparently the Earth wants the Autobots off their world. So they put them in a rocket and blast them off. This was a two-part episode on the animated series, and it has the same twist: the rocket blows up, but the Autobots are actually alive.
Yeah, that is a spoiler, but in all honesty, you can just watch the trailer, look at the poster, know about Transformers, and you know how it will end. In this case, there is a big battle in a major city, and in this film, it is Chicago. This seems to be a staple of big summer blockbusters, to have the heroes and villains fight in a major city and it is trashed by the end. I actually believe this film did it first, and then Avengers, and then Man of Steel. I think we are actually getting sick of this, as I kind of sick of seeing collateral damage get glossed over. Seriously, thousands would die in this given scenario, if not hundred of thousands.
The film is good at keeping the robots as its main characters, but the human characters are still involved. Shia LaBoeuf is out of college, and he has dumped that Megan Fox. In Fox's place is Rosie Huntington-Whiteley, who has no prior acting experience before this, but is a Victoria's Secret fashion model. The fact that Fox was so easily replaced shows that characters is not this movie's strong suit.
Also in the film is Patrick Dempsey, who plays a pretty good villain in this film. He isn't the type of villain who is planning anything, but a slimy guy who is willing to betray humanity just to save his own life. He does the role so very well, but maybe I just never trusted the guy on Gray's Anatomy.
As I mentioned before, this ending has a satisfactory conclusion, and one of my favorite moments is when Optimus Prime shoots a bad guy and says "we will kill you all" after his giant bullet shell hits the ground. It does encapsulate this film perfectly as it goes into the mammoth climax. Too bad this film series didn't just end here, and we will review the next film next week.