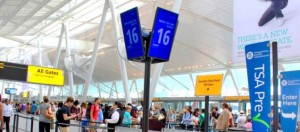 Most of us have been told that we should arrive at the airport a few hours early to catch our flights, because TSA lines take a while to go through. Personally, I never lost my patience, because I never wanted the TSA to take me out.
New York's JFK Terminal 4, there is some new information in the form of some screens that show how long the wait time will be. The screens use Blip Systems' wireless beacons that can record, encrypt, and timestamp a device's MAC address. Then the system counts the number of mobile devices, and figures out an accurate wait time down to the minute.
In case you might be worried about privacy, the information is promised to be very secure, and it cannot be tied back to the user. It also uses Bluetooth and Wi-Fi to track mobile devices, so what about people with multiple mobile devices?
Well, if this works at JFK, I would imagine that we will see these at amusement parks, where we really want to know how long it will take to wait in line.