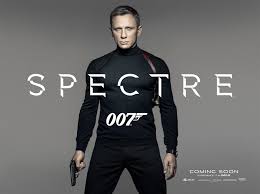 I believe that this is the first time that I have reviewed a James Bond film, and this is probably cheating. James Bond films are not science-fiction, unless you count Moonraker. However, I recently wrote about how James Bond could be relevant in today's age, and there are some themes in Spectre that have been explored in speculative fiction works, and is a commentary on today's technology.
I probably should briefly discuss James Bond, but even my son has heard of him, and he has never seen a single one of the many movies. The reboot that occurred when Daniel Craig took the role was probably the best thing that could happen to James Bond. It was a way of taking him back to his roots and introducing him to a post 9/11 world. I recently watched Casino Royale, and I believe it is one of the better Bond films, and it would be the best if not for the iconic nature of Goldfinger.
For some reason, James Bond has this really annoying habit of going rogue in every movie he is in from now on. Now, there has been some events in the last movie, Skyfall, that have dovetailed into this film. The female M, played by Judi Dench, died in the last film, but she left a posthumous message asking Bond to kill someone and "not miss the funeral".
This is one thing that I'm not really liking about James Bond, as these most recent films have emphasized Bond as an assassin. Now, I understand that he has a license to kill, which never made sense to me. I mean, this guy has a permission slip to break one of the Ten Commandments! Personally, Bond is a spy, which means he will have to be the fly in the ointment in order to topple dictatorships. He isn't just a trigger, but a problem-solver, and the guy you call when you have to get your hands dirty.
The film opens with Bond killing this man, who would have actually killed a whole stadium full of people. So that's okay, right? Yeah, the morality of Bond is pretty questionable. Anyway, Bond really made a public spectacle out of killing this guy in a helicopter in Mexico on the Day of the Dead. It is actually a big action setpiece, and one of many in this film that sadly get worse as they progress.
This guy that Bond kills has a ring with a 7 armed octopus. Then it goes into the title sequences full of babes and bullets that the films are so well known for. There is also this scene where an octopus attacks a naked woman which is really sick hentai porn stuff. I have to give the film negative points for that, because I just don't see a reason for that. Yeah, this isn't a good review.
Anyway, apparently Bond is in trouble with the current M played by the great Ralph Fiennes. Bond is grounded, but Q, a classic Bond character that was finally brought into the rebooted Bond universe for Skyfall, tracks Bond with some microchips in his blood. Yeah, this is kind of speculative fiction tech.
At this point, there is a weird subplot about how MI6 is going to be merged into some new organization, and drones will replace the double O program. There is this guy who plays Moriarty on Sherlock who Bond calls C who represents this new ideal, and he's a jerk.
Apparently, the late M told Bond not to miss the funeral of the guy he killed, so he sees this guy's widow. He even stops assassins from killing this lady, and they have sex. Yeah, Bond also has a license to woo any woman, regardless of circumstances. I mean, her husband just died…and I really don't want to get into this.
Bond soon discovers that there is a meeting going on with some really evil organization that is also ultra-secret. This is why this woman was killed because if you join Spectre, then your wife dies if you do. What is also odd is the set-up of this place, with a few guys sitting at a table, and other guys just standing around. Was there a shortage of chairs?
Before I answer that, I'm going to say that there are spoilers ahead, so don't read any more if you don't want the ending.