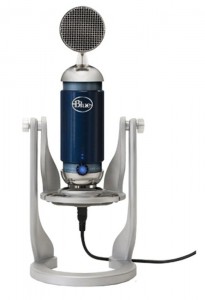 I can honestly say that I have been a big fan of Blue Microphones for many years now. The last thing I reviewed from them was Tiki USB microphone, and I was pleased to review another USB microphone, the Spark Digital.
The Spark Digital reminds me of another Blue Microphones product known as the Yeti. The Spark Digital is lollipop in shape, and the Yeti looks like a big…lipstick. Yeah, I could easily make a comparison with the shape, but I might offend at least a few readers.
This Spark Digital comes a stand that has this very interesting rubberband net that keeps the microphone level. It also has a cool Focus Control with two different usage modes that can be controlled with a touch of a button.
I mentioned earlier that the Spark Digital is a USB microphone, but it is also works for the iPad as well, and it includes cables for both of them. You should be able to purchase it on the Company site here for about $199.