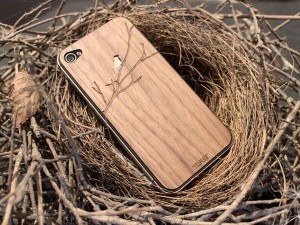 In case you don't get that headline, you need to start watching Portlandia, and IFC sketch comedy show that I, who lives in the Northwest, can utterly relate to. On the show, the main characters of Fred Armisen and Carrie Brownstein talk about how they "put birds on things". The sketch has a terrific payoff, and Toast, a company based in Portland, has put a bird on this particular iPhone case.
The "Bird on a Branch" is essentially that, and it has an odd hole on the case to reveal a very silver bird. The cases are wooden, a lot like the Tribeca cases on an earlier review. This one is also available in four kinds of wood including Bamboo, Walnut, Ebony, and Ash.
Most wooden cases usually stop their wood on the back of the smartphone case. Toast takes this a step forward as it puts wood on the sides. In fact, the case comes in a very flat case, unlike other cases of their kind.
If you like this, you can get it on the Toast site for about $30.00. If you want it with an engraving, you'll have to pay $5.00 more.