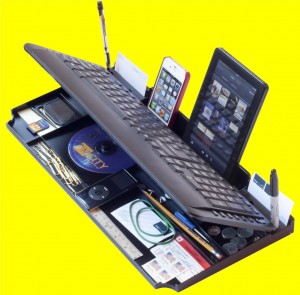 A funny thing happened to me last week. I was typing on my laptop and noticed that my "t" and "y" keys were not working. Just when I needed a new keyboard, this myKeyO 6-in-1 USB keyboard is sent to me.
This 6-in-1 USB keyboard is pretty special, and I will explain what the six things are right now. The first is the regular keyboard with some cool shortcut keys like calculator, home, volume and all that. The second feature involves opening the keyboard and seeing an organized space there. This alone would be the two features needed to sell me the keyboard.
The other features include a stand for a phone, tablet, business cards, and one last one for the stylus/pen. This really comes in handy when you are trying to retype footage from a smartphone/tablet.
I am not certain why it is called the "restt" with two t's. Perhaps it has rests on two sides? Anyway, if you are interested in this, head on over to the myKeyO site and lay down $24.95 for this wired version. There are also Bluetooth versions of them at about $39.95.