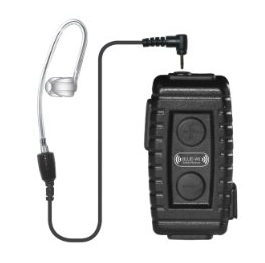 I have reviewed a lot of Bluetooth headsets on this site before, and I thought that the Nighthawk from Blue-Wi was just another one. I first encountered it at CES, then again at CTIA, and I have finally received the Nighthawk to try out on my own.
Let me start by telling you that the Nighthawk is one of the best Bluetooth devices that I have ever heard. You know how a lot of Bluetooth headsets have some echo effect? I found fewer of those on this one. I wish I could say there were none, but I just had some weird effects on a recent phone call. Granted, this is the same phone call that my friend said was much clearer.
The Nighthawk has a 12+ hour talk time with 150 hours of stand-by time, as most Blluetooth headsets last only 4-6 hours. What really makes it stand out from most Bluetooth devices is that it can pair with 2-way radios. Not only can the typical smartphone user make use of it, but it is good for those in law-enforcement.
In addition to being a terrific Bluetooth headset, it has a great app for recording audio. According to the company, you can use it to capture a lecture at 30 feet.
You can get this for about $99 on Amazon, and there will be more surprises in Q4 from this company.