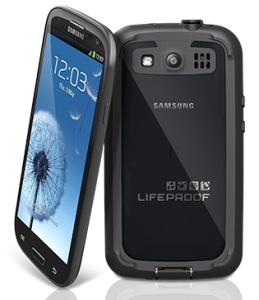 I have recently done a lot of reviews of Lifeproof products lately, such as the fre for the iPad. I have also reviewed the nüüd for iPad and I have now tried out the Galaxy S III.
One of the things about the nüüd is that it is nude. Even though it is made to be waterproof and dustproof, there is nothing really protecting the touchscreen. Seriously, I thought I had mis-read the instructions or there was a part missing. There is a weird Water Tested thing ready to prove that your nüüd can protect your Galaxy S III.
Lifeproof likes to brag that the design for their Galaxy S III nüüd is better, and I would agree. It appears to be curvier and not the usual bricks that protective cases tend to be. It is also quite thin.
Of course, the nüüd protects against water, dirt, snow, and shocks. Those are the big four for protective cases like this.
You can get the nüüd for the Galaxy S III on the Lifeproof site for about $89.99.