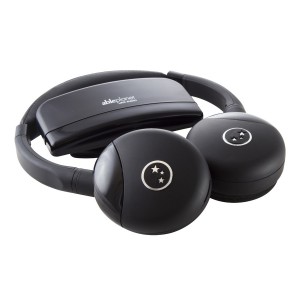 I have looked into Able Planet before, and they use some Patented LINX Audio technology to produce some good sound. I recently had a chance to try out the True Fidelity IR310TM which is a wireless headphone that works with an infrared transmitter.
The headphones don't take too long to set up. All that is required is to plug the IR transmitter into the wall, connect the IR transmitter to your source, and put batteries in the headphones. It syncs instantly, and so I had wireless sound right away. It is perfect for those who live in dorm rooms, and need just a little wireless freedom.
Just to let you know, there is a little bit of hissing going on, but only if you have the volume on the headphones turned up. If you keep your source volume turned up and the volume lowered, this is pretty good.
Other features are their folding-flat capability, and six sensors to enable the user to move ones head without losing any sound.
If you are interested in getting these, head on over to the Able Planet website and lay own $129.99.