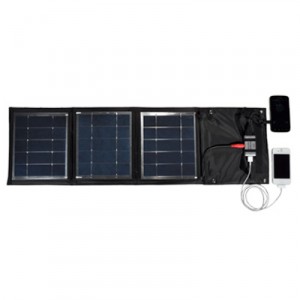 I found myself reviewing Digital Foci chargers this week, and I reviewed the two Battery Porters, the 5200 and 8000. This particular one is the Solar Porter 12, which relies on the power of the sun.
Solar Chargers are kind of hit or miss, because I have heard that solar power isn't really efficient. I am assuming it isn't based on the fact there aren't more solar plants. After all, if we could put some solar panels on a roof, could we all be self-sustaining power houses?
I am told that you can charge a smartphone in one hour and a tablet in 2.5 hours. It is good enough for 1400mA under full sunlight. I would say that is good enough for the owner of a mobile device.
In short, if you have a camping trip, or some place where you won't have access to electricity, I would recommend the Solar Porter 12. You can get it on the Digital Foci site for about $79.00.