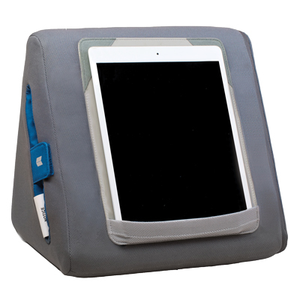 Since I have been fortunate enough to receive a shipment of stuff from Domeo, it is my duty, nay, the privilege, to report on it. I will start with the triangular and triumphant Tri-Lounge!
Okay, so I ran out of T-words, and I really like the design of this. It really is a great pillow-like accessory for the iPad. You can put the tablet in these special holder pockets so you can use it in portrait and landscape mode. Yes, it is very cozy, and designed for quiet nights at home. The cat is going to be very jealous that his or her lap has been taken.
You can also store accessories for the iPad, even the iPad itself in the soft plush interior of this thing. I forgot to mention that the Tri-Lounge is compatible for all versions of the iPad (save the Mini) and even some 10-inch tablets.
If you are wanting to get one for yourself, head on over to the Domeo site and lay down $49.99 for it. And stay tuned for more on Domeo this week.