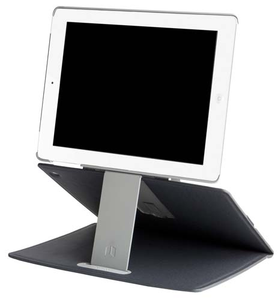 Yesterday, I talked about the Domeo Tri-Lounge, which I will have to say is an unusual iPad accessory. Today, I am reviewing two iPad Cases, and I will start with the Loft Folio.
You have to admire the Loft Folio for sheer design aesthetic alone. Look at how it stands, making it look like a desktop monitor, an old school one, actually. It really is at the perfect eye-level for when you want to use a Bluetooth keyboard for all kinds of work.
You can also fold it up so it is wrist-level, and adjust it at all kinds of angles. This is because it is like a spring-loaded ramp thing in back that I can barely describe. All that, and it is a perfect Folio case that you makes the iPad very portable.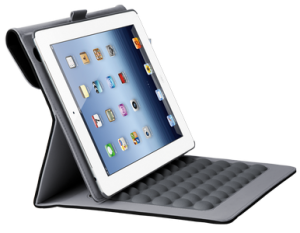 Now let's talk about the Recliner Folio. This is another very unusual Folio case. It is unusual because the way it protects the iPad will also hold it up at an angle. These are weird bubbles that I hope the illustration shows.
The Recliner also has a very cool magnetic flap to seal it shut. Now, yes, I have seen that before, and this has auto wake/sleep magnets in the iPad.
You can get the Loft Folio iPad Case here for about $49.99, and the Recliner iPad case here for $44.99.